As a resident of Dutchess County, I believe the following are issues to be addressed...
Balancing Valued County Services while Controlling County Taxes


Promoting Public Safety


Eliminating County mandates on homeowners and small businesses


The continual spread of tick borne disease in Dutchess County


Although the temperatures are beginning to cool, the Dutchess County Tick Task Force would like to remind everyone that tick season is not over. Soon the nymph ticks of spring will molt into larger adult ticks and be ready to feed on a host. Even though we may feel that we are out of "woods" so to speak, the upcoming fall festivities will increase our risk to exposure to the elements that ticks thrive. Waiting patiently on the edge of grasses and shrubs, ticks will cling to whatever host brushes along the vegetation and feed with the peak occurring during October through November.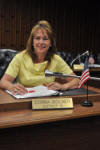 I was raised in Oologah, Oklahoma as Donna Hobbs in the shadow of a famous American, Will Rogers, who said "I never met a man I didn't like." At 12 my mom and step dad moved my brother and myself to Odessa, Texas to grow up in the middle of what became the book "Friday Night Lights." I graduated Odessa High School in 1985... Read More ]